Notice
: register_rest_route was called
incorrectly
. Namespace must not start or end with a slash. Please see
Debugging in WordPress
for more information. (This message was added in version 5.4.2.) in
/home/stylemen/public_html/wp-includes/functions.php
on line
5665
Notice
: register_rest_route was called
incorrectly
. Namespace must not start or end with a slash. Please see
Debugging in WordPress
for more information. (This message was added in version 5.4.2.) in
/home/stylemen/public_html/wp-includes/functions.php
on line
5665
Notice
: register_rest_route was called
incorrectly
. Namespace must not start or end with a slash. Please see
Debugging in WordPress
for more information. (This message was added in version 5.4.2.) in
/home/stylemen/public_html/wp-includes/functions.php
on line
5665
Notice
: register_rest_route was called
incorrectly
. Namespace must not start or end with a slash. Please see
Debugging in WordPress
for more information. (This message was added in version 5.4.2.) in
/home/stylemen/public_html/wp-includes/functions.php
on line
5665
Notice
: register_rest_route was called
incorrectly
. Namespace must not start or end with a slash. Please see
Debugging in WordPress
for more information. (This message was added in version 5.4.2.) in
/home/stylemen/public_html/wp-includes/functions.php
on line
5665
As maximalism and logos hit saturation point, classic neutrals quietly take the fashion spotlight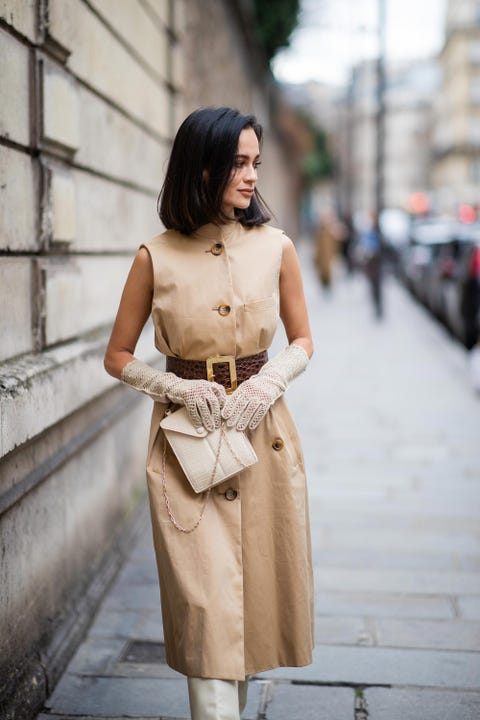 As far as trends go, you'd be forgiven for assuming that beige equals boring. Over the past few seasons, fashion and our social media feeds have been dominated by not-so-neutral glitz, be it dazzling sequins or fanciful feathers, as well as (on the other end of the scale) all things athleisure. We've had little reason to desire a flesh-toned palette; beige-coloured sequins? No, thank you. But, fast forward to Paris Fashion Week autumn/winter 2019 and a street style scene awash with ecru, khaki and cappuccino, and suddenly it was the 50 shades of beige that set pulses racing.
The idea of the 'statement piece' has commandeered the runways in recent years. Designers, established and emerging, have championed 'eye-catching' en masse: embellishment, colour, logos, feathers… the more eccentric, the better. Unsurprisingly, a neutral wardrobe has often felt unimaginative in the face of the supercharged sequins beloved by everyone from designers and celebrities to some of the most photographed street style stars, so why the return of 'boring' beige? And why is it so alluring now?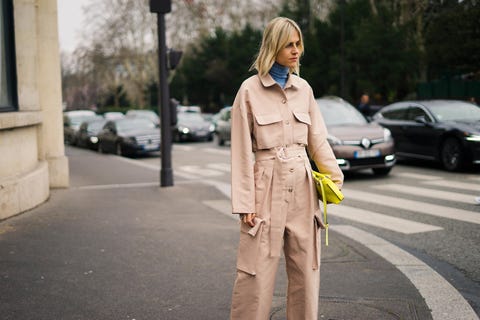 "I think this is a natural shift from what has become a heavily logo- and streetwear-driven market, as well as well as an homage to Phoebe Philo at 'Old Celine'," says Holly Tenser, who heads up womenswear buying at Browns Fashion. "Women are now looking for a more chic and refined alternative, forcing a move towards a more pared-back and sophisticated aesthetic." Milan-based influencer Linda Tol echoes this sentiment: "To me, beige is effortless and incredibly chic. Women are really thinking about what they want to invest in and its allure is that it's not only versatile but timeless, too."
Indeed, the fashion sphere has at times felt swarmed by the logo-fuelled, more-is-more attitude of the past few seasons, but changes in creative directorship at some of the biggest houses – including the departure of Phoebe Philo at Celine, leaving many of her loyal fans bereft of a neutral, minimal haven – have signified an imminent period of change. Riccardo Tisci's debut campaign as chief creative officer of Burberry revived the label's signature hue – the beige-on-beige ensembles pictured against distinctly neutral backdrops alluded to the bevy of coffee-coloured classics to come in his autumn/winter 2019 collection. Among the many notable looks that caught attention was a skirt and tie, paired with a cowl neck jumper and finished with a coat, all in varying shades of sand.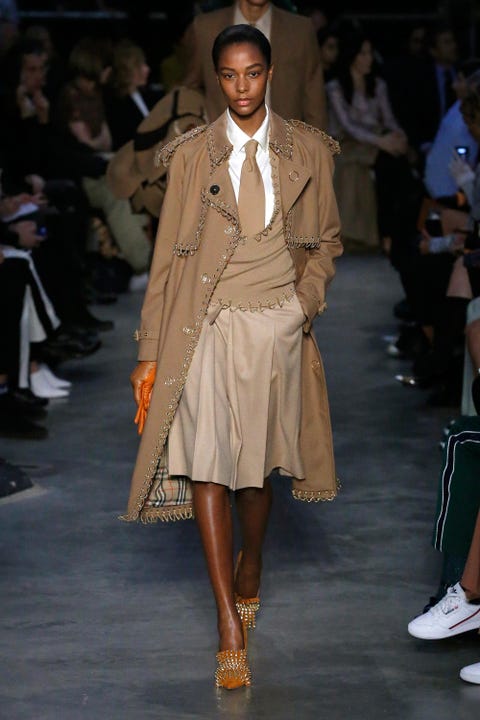 Over in Milan, the big news was Daniel Lee's first collection for Bottega Veneta. The new creative director perfected many a flesh-toned outfit including a linen trench layered over a knitwear look with tan accessories, all in varying and reassuringly luxurious shades of beige. And therein lies the key to nailing neutrals this season: forget an unaccompanied ecru blouse or a solitary sand-coloured jacket – it's head-to-toe or nothing.
"This is a natural shift from what has become a heavily logo and streetwear driven market"
For those of us who aren't hitting a runway anytime soon, it's wise to look to Tol who, in a sea of colour-clad, logo-laden show goers, has long been known for her impeccably turned out, understated aesthetic and unmistakable love of buff. "Neutral pieces are key when creating an outfit because they balance the other elements, so you can really build from them," she says. "For example, a light-camel woollen coat paired with a bright sweater and heavy-set gold earrings is a chic daytime look, or you could play around with texture and print. Personally, though, I love to wear a head-to-toe beige outfit." And she wears it well – one of her tonal looks at Milan Fashion Week featured a hooded jacket, cargo style trousers and strappy sandals from Jacquemus, all in the same strikingly sophisticated shade.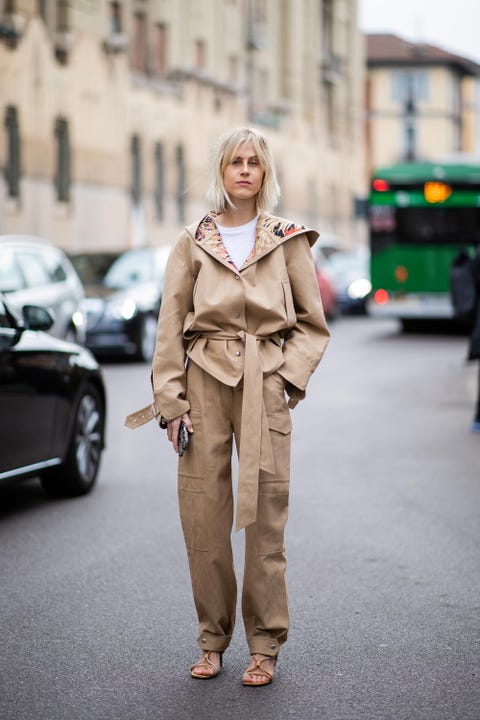 One thing's for sure, it's a hell of a lot easier to get dressed in the morning when faced with a wardrobe comprised of camel and khaki over a rail filled with brocades and beads, (although such fun-loving favourites still have a time and place, so don't go throwing those away). But don't worry, we're not suggesting that head-to-toe is the only way to embrace beige; here are five styling tips to working these classic colours back into your repertoire, whether you're a neutral novice or seasoned in the various shades of sand.